Niger was praised for its first democratic transfer of power in history. But a failed coup this week shows new President Mohamed Bazoum faces an uphill battle to stabilize his country.
Mohamed Bazoum, Niger's newly elected president, enters office on Good Friday, just two days after heavily armed soldiers opened fire on the presidential palace in the capital, Niamey. State reports said the presidential guard repelled the attack after a 30-minute gun battle. Arrests of military personnel quickly followed, with more expected, a government spokesperson confirmed.
Even without the failed coup, Bazoum's new government is already facing an uphill battle to secure stability for Niger. Ever since the election that saw him take power, there have been numerous terror attacks on Niger's civilian population in the western border regions with Mali and Burkina Faso. More than 300 have already died.
To make matters worse, defeated presidential candidate Mahamane Ousmane is still refusing to accept the election results. Instead, he took the matter to court, a move that precipitated mass protests led by his supporters. Security forces were heavy-handed in their suppression of the demonstrations, with at least two people killed and over one hundred arrested.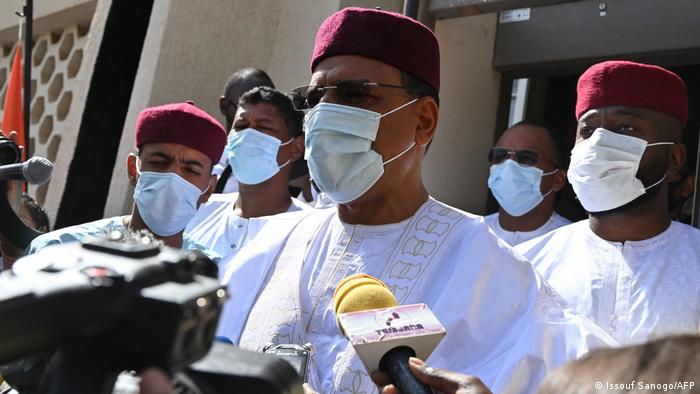 Niger pursues stability and democracy
David Zounmenou from the Institute for Security Studies in Senegal says establishing political stability and democracy is key for Niger.
"Mohamed Bazoum has to get into dialogue with his challenger, a dialogue towards improvements that the country needs," he told DW. "Niger has to work hard to consolidate the democratic environment given the fact that the country is embroiled in the security challenges. The government must develop a coherent response to the security challenges that affecting the citizens and also undermining the economic development of Niger."
But for many observers, there is still a sense of relief following the first peaceful and democratic transfer of power in Niger's history. Bazoum's predecessor and ally, Mahamadou Issoufou, stepped down after 10 years in power and was awarded the Ibrahim Prize for Achievement in African Leadership. His own election to office was preceded by a military coup in 2011.